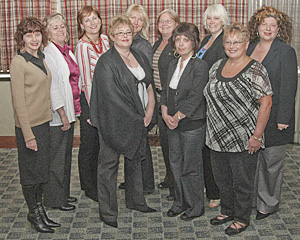 National Council Women's Advisory Committee (l-r): Nancy Quiring, National Office and committee chair; Linda Chafe, National Office; Anouk Collet, National Office; Bev Dobson, Eastern Provincial Council; April Albrecht, Local 401; Mary Johnson, Local 832; Tima Burgess, Local 247; Michelle Fedosoff, Local 1518; Deb Kaufman, Local 1977; Rehya Yazbek, Local 1000a. Absent from photo: Kelly Tosato, Local 175; Aline Audet, Local 1869; Olivia Maude Cournoyer, Local 500; Isabelle Roy, Local 501; Laurie Temple, Local 1400.
UFCW Canada's four National Council committees met in Toronto recently to review and discuss their ongoing programs to help build the union and prepare it for the future.

The UFCW Canada National Women's Advisory Committee used their two-day session to finalize workshops the committee has developed for UFCW Canada Local unions: Walmarting the World, Speaking Up for Yourself and Others, Making Time For You, and Sister 2 Sister. Money Skills — a course in financial literacy will also be rolling out soon, following a "test drive" by UFCW Canada women trainers in early April (see Directions 10.16).

The union's national Human Rights, Equity & Diversity (HRED) committee reviewed a number of initiatives launched since their last meeting and discussed community engagement strategies with representatives from two UFCW Canada allies. Presenters from Migrante Canada, an alliance of Filipino migrant and immigrant groups across the country, and the Workers Action Centre, a not-for-profit that helps people in low-wage and unstable employment, talked to HRED committee members about mobilizing communities and collaborating with like-minded organizations.

The HRED committee also set its sights on the G20 Summit in Toronto, where UFCW Canada will be contributing to the efforts of other social justice groups by hosting two public forums: No Rights No Rules: Migrant Workers in a Globablized World and the Walmart Globalization Forum.

Members of the national Workplace Rights Committee focused on the shortcomings of the Employment Insurance system and Canadian Pension Plan, and talked about ways the committee can contribute to ongoing reform efforts. As the committee responsible for ensuring the compensation needs and health and safety rights of members and non-organized workers, the Workplace Rights committee also started making plans for developing a series of practical frontline tools that will be made available to UFCW Canada local unions to help create safer, fairer workplaces.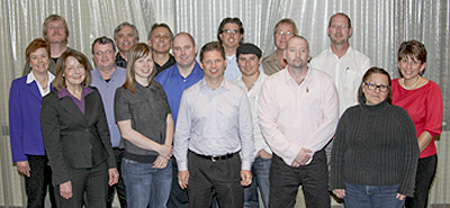 National Education and Political Action Committee (l-r): Michelle Massery, Local 832; Peggy Nash, Pres., Fed. NDP (guest speaker); Brian Noonan, National Office; Bryan Neath, National Office; Brandi Tracksell-Sampson, Local 1400; Darren Kurmey, Local 1400; Dean Patriquin, Local 247; Dan Gilbert, Local 1000a; Andre Gingras, Local 501; Andy Neufeld, Local 1518; Tim Hosford, National Office; Marv Funk, Local 1977; Sylvie Cadieux, Local 501; Kelly Nicholas, Local 175
The union's national Education and Political Action Committee (EPAC) also met to review a number of recently launched initiatives, including an exciting new training program designed to help build a national base of UFCW Canada member-activists who can take a leading role in election campaigns at all levels of government.

The EPAC committee is all set to launch the second phase of its training program with two new, more advanced courses, Campaign Management and Lobbying, which will be open to activists who have completed the Introduction to Politics course, which was rolled out and enthusiastically received by members across the country last year.

"Since the four national committees were formed less than two years ago, they have all worked really hard to significantly improve communication between local unions, and between local unions and the National Office," says UFCW Canada National President Wayne Hanley. "The One Union, One Voice program is dedicated to meeting our growth, collective bargaining, and servicing objectives by combining our efforts whenever possible, and the committees are proving to be a key part of that strategy for moving forward."
Vol. X No. 17 • May 3, 2010