UFCW Canada is calling on all members to stand in solidarity with their fellow workers and UFCW brothers and sisters in the United States by supporting a boycott against the State of Arizona, which recently passed a law that allows for greater discrimination against the State's large and growing number of racialized residents and workers.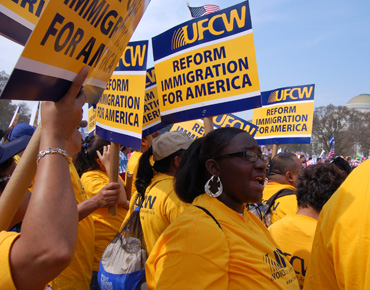 UFCW International, along with the National Council of La Raza (NCLR), and other leading progressive organizations, recently launched the "Boycott Intolerance" campaign to protest the new Arizona legislation called SB1070 that gives police exceptional powers and opens the door to increased racial profiling, wrongful arrests and other forms of discrimination against undocumented workers, many of whom are new immigrants from Mexico.

As part of the Boycott Intolerance campaign, individuals and organizations are asked to make a statement for civil rights by avoiding unnecessary travel to Arizona, and by holding major conventions and conferences in other places.

The campaign is attracting support from a very broad section of concerned citizens and organizations, including the State's professional basketball players who in protest of the new law changed the team's name on their jerseys from the Phoenix Suns to "Los Suns".

"Canadians make a significant contribution to Arizona's very lucrative travel and tourism industry, and many of those vacationers are UFCW Canada members and their family and friends," says UFCW Canada National President Wayne Hanley. "Making a stand for basic decency and fairness is a big part of what UFCW Canada is all about, and activists can send a very strong message by spending their hard-earned vacations in places that respect equality and civil liberties."

For more information on the "Boycott Intolerance" campaign, go to www.ufcw.org.