You must have java enabled to watch this video
Brampton, ON - May 6, 2010 -- UFCW Canada activists joined other labour allies outside the Loblaw Companies headquarters in Brampton, Ontario to protest the callous treatment of more than 100 UFCW Canada RWDSU members who were thrown out of work with only the absolute in minimum severance pay when Loblaw shut its National Grocers distribution warehouse in Sudbury, Ontario.
"Basically, the company offered the minimum wage for employment standards," says Derik McArthur, the UFCW Canada RWDSU Northern Joint Council president. "They couldn't offer anything lower because it's against the law."
McArthur and a busload of Sudbury workers were at the Brampton protest. Many of the members had worked at the warehouse for decades. The Sudbury facility shut in April, following months of Loblaw balking at negotiating the kind of improved severance terms it had in the past.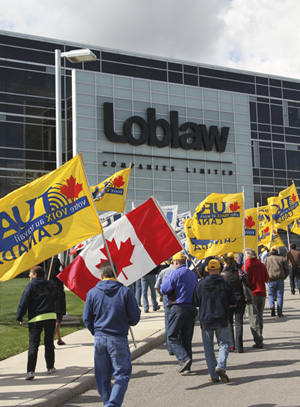 "Loblaw is a changed company, as we see from its unfair and inequitable treatment in Sudbury," says UFCW Canada National President Wayne Hanley. "It is not the employer it was in the past and you see it across the country in Quebec, and Western Canada, and at the latest round of bargaining in Ontario," said the national president in the wake of the Brampton protest — and the halt of contract talks for Ontario Loblaw banner stores very early in the negotiating process.

In a joint statement issued May 5 from the Local Unions involved, "it is the first time in Loblaw's bargaining history, that at such an early point in negotiations, the four Local Unions involved concluded conciliation is absolutely necessary because Loblaw Companies is unwilling to bargain productively."