The members of the UFCW United Latinos Executive Board recently gathered in Toronto to talk about the critical issues facing Latino North American workers, plan for the upcoming United Latinos Convention in Las Vegas (more in a future edition of DIRECTIONS), and mark the group's first-ever meeting in Canada.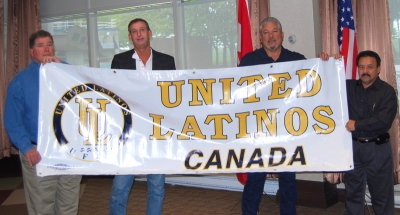 Coming on the heels of the founding of United Latinos Canada (DIRECITONS 9.39), the Toronto meeting provided the executive board with an opportunity to officially welcome their Canadian sisters and brothers, which they did with a commemorative banner that was accepted by UFCW Canada National President Wayne Hanley, who also serves as the honourary president of United Latinos Canada.

Above all, the executive board members from Canada and the United States took the Toronto opportunity to pledge full solidarity, and develop a strategy for challenging an ominous law recently passed by the State of Arizona, called SB1070, that allows for increased racial profiling and other civil liberty violations (see DIRECTIONS 10.19). UFCW is now set to protest the discriminatory nature of the new Arizona law through a series of coordinated actions that will be held across the continent on May 29.

UFCW Canada is dedicating May 29 to calling on all activists to put their full support behind the "Boycott Intolerance" campaign spearheaded by UFCW International, the National Council of La Raza, and a number of other leading social justice organizations.

As part of the May 29 day of action, UFCW Canada will be working with Barrio Nuevo and taking the airwaves to help get the word out. Barrio Nuevo, a popular radio program that focuses on workers issues (see DIRECTIONS 10.05), has agreed to run a special solidarity broadcast that will focus on SB1070 and the different ways activists can fight this new piece of regressive legislation. The program will run on May 29 from 4 to 5 p.m. at 1610 on the AM dial.

"SB1070 sets a very dangerous precedent that should concern workers everywhere," says National President Hanley. "If left unchecked the Arizona government's prejudicial treatment of new immigrants could spread to other states, and then across national borders. As members of an organization dedicated to furthering fairness and equality, we have to do everything in our power to stop that from happening."

For more information on the "Boycott Intolerance" campaign, go to nclr.org/section/boycott.

Vol. X No. 21 • May 31, 2010