Directions Newsletter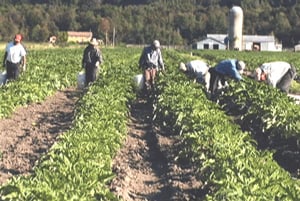 Seasonal agriculture workers in Quebec have had their Charter rights to unionize upheld by a decision rendered by the Quebec Labour Relations Board (QLRB). The QLRB decision to certify a union bargaining unit at a Mirabel-area farm comes 20 months and 36 days of hearings after a majority

"These workers had the courage to stand up and the labour board has backed them up by recognizing their rights to associate and bargain collectively," says Louis Bolduc, the executive assistant to the national president of UFCW Canada. ?This decision is a victory for these workers and for every other agriculture worker in Quebec who needs and wants a union."

In its decision the QLRB deliberated a 40-year-old section of the Quebec Labour Code, article 21.5, which only allowed union organizing at Quebec farms with three or more employees continuously employed throughout the year. That excluded many industrial-scale Quebec farms, where most workers are only employed seasonally. Both FERME (a Quebec farm lobby organization) as well as the Quebec attorney general made arguments to the QLRB that article 21.5 was reasonable and should remain in force. The QLRB ultimately disagreed.

In an 85 page decision delivered April 16, the QLRB determined that whether seasonal or year-round — all farm workers in Quebec, including migrant farm workers, have the constitutional right to organize for the purposes of collective bargaining as protected under the Charter of Rights and Freedoms. There are more than 27,000 farm workers in the province, including about 6,000 migrant workers who work on Quebec farms each season.

"Along with respecting Charter rights, the decision also respects the human rights ofworkers to safe and decent working and living conditions," says Bolduc. "The QLRB also recognized that over the decades since article 21.5 was drafted, today's farms have evolved into large scale industrial operations. They are just like factories, and just because they shut down for a few months a year doesn't mean the workers should be denied their right to join a union."

UFCW Canada collective agreements are in place at four Quebec agriculture operations. Negotiations for a first contract are underway at a fifth location. Two additional certification applications are currently before the QLRB. UFCW Canada also represents agriculture workers at locations in British Columbia and Manitoba.
Vol. X No. 16 • April 26, 2010