Directions Newsletter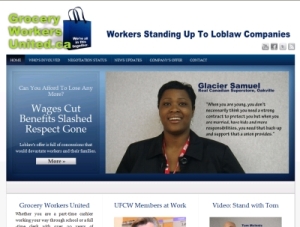 Over 30,000 UFCW Canada members who work for Loblaw in Ontario just launched a new website dedicated to making sure Canadians know the importance of keeping good food retail jobs in their communities.

The new multimedia website is called GroceryWorkersUnited.ca and features Loblaw workers explaining how the company's desire for "a race to the bottom" has only strengthened their will to fight and their support for each other as union sisters and brothers.

Bargaining with one voice, the members of UFCW Canada Locals 1977, 1000A and 175 recently sent a very strong message to the employer by voting more than 97 per cent in favour of giving their negotiating committee a strike mandate (see DIRECTIONS 10.28).

Though empowered with a full strike mandate, the union's negotiating committee has said it will stay at the bargaining table as long as progress is being made toward a settlement.

The local unions' bargaining committee is scheduled to resume talks with Loblaw, Canada's largest food retailer, on August 9, 2010.

In the meantime, UFCW Canada activists can stand with their union sisters and brothers at Loblaw by supporting the GroceryWorkersUnited.ca campaign through their Twitter feeds, Facebook posts and YouTube comments. Friends and supporters are also encouraged to check with GroceryWorkersUnited.ca regularly and spread the word about the new website to co-workers, classmates and neighbours.


Vol. X No. 30 • August 3, 2010