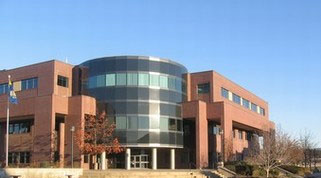 Food service workers at the University of British Columbia (UBC) Okanagan campus in Kelowna, B.C. have overwhelmingly voted "Yes" to certify UFCW Canada Local 247 as their union and bargaining agent.

The combined unit of about 90 members work for Aramark — an American multinational which contracts food services at hundreds of North American locations. The vote was conducted March 22 but the ballot box was sealed pending Aramark's challenges.

In the wake of hearings the ballots were tallied on April 30. The vote was won 51 to 15, "thanks to the hard work of Local 247 organizing director Nora Butz, and Keith Murdock, Chris Dennis and Devin Yeager from the National office who worked equally as hard on this campaign," said Suzanne Hodge, secretary-treasurer of Local 247.

The UBC Okanagan Aramark bargaining unit includes staff at two cafeterias, as well as food court personnel at Aramark-operated franchises in the UBC Okanagan food court including Starbucks, Tim Hortons, Extreme Pita, Booster Juice, as well as an on-campus variety store.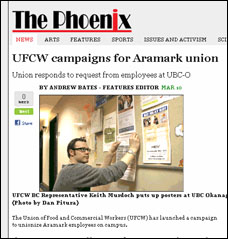 Team leaders and supervisors are also part of the unit, after the British Columbia Labour Relations Board dismissed Aramark's challenges to have them excluded.

According to Nora Butz, "the support and determination of the National staff and organizers was tremendous. It is very encouraging because we're serious about defending workers' rights through organizing and growing the strength of the union. That includes recently adding a new full-time organizer as well."

Many students also backed the organizing drive, including on-campus members of the Canadian Federation of Students, Local 3 who helped leaflet during the campaign. The Phoenix — the UBC Okanagan student news website — also published a positive article just days before the vote.

A proposal meeting with the new Aramark members is expected to be held sometime before the end of May.