During the UFCW's annual International Executive Board meetings held recently, an awards dinner attended by more than 400 people was held to showcase some of the more outstanding growth efforts of local unions across the continent.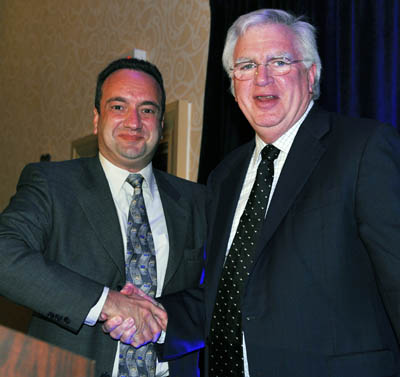 At the event, UFCW Canada Local 500R President Antonio Filato (left) was congratulated by International President Joe Hansen in recognition of Brother Filato's and Local 500R's progress since his election. Although a relatively new president, Tony and Local 500R have organized over 1,500 members in the past year, and have also successfully completed a merger with UFCW Canada Local 502.

President Hansen also recognized Local 500R as an instigator of changes that have been beneficial for its members. "I was very proud to have received this recognition from President Hansen on behalf of our members, especially in front of UFCW leaders from across Canada and the United States," Tony says. "But these successes would never have been achieved without the hard work of all the organizers, union representatives, staff, and member activists who have contributed to these achievements, and I would like to thank them all for their ongoing efforts.

"We still have a lot of work ahead of us."


DIRECTIONS • Vol. X No. 11 • March 22, 2010