According to Statistics Canada, approximately one in three Canadian workers belonged to a union in 2009. In fact, last year 31.4% of the national workforce belonged to a union, which represents a slight increase from 2008 when 31.2% of Canadian workers bargained collectively.

But from 1997 to 2009 the unionization rate in Canada decreased steadily from 33.7% to 31.4%.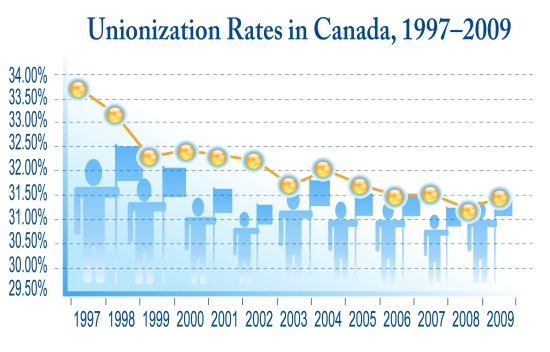 The StatsCan data also reveals that the national unionization rate varies according to age. In 2009, 16.4% of Canadian workers from ages 15 to 24 belonged to a union; whereas, 38.8% of workers between ages 45 and 54 were organized. The 2009 data also tells us that Canadian workers over the age of 64 are much less likely to belong to a union than workers between the ages 25 and 64.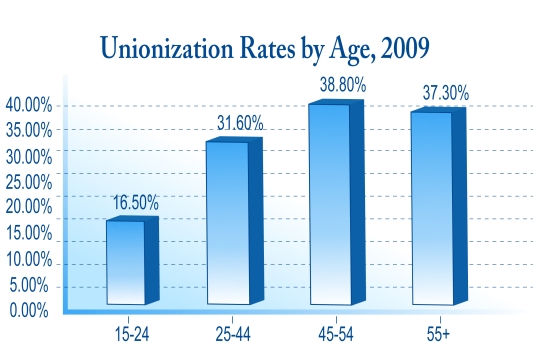 The data also demonstrates that in 2009 Quebec was Canada's most unionized province, where 39.8% of the workforce belonged to a union, followed by Newfoundland and Manitoba, which accounted for union density rates of 39.0% and 37.0% respectively. Alberta represented the lowest unionization rate with 25.0%, followed by Ontario at 27.6% and Nova Scotia at 30.6%. In B.C. only 31% of the workforce was unionized in 2009.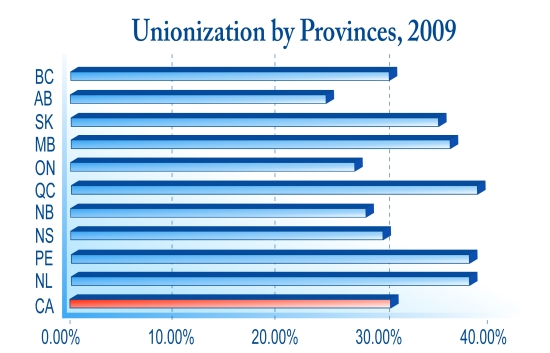 Vol. X No. 21 • May 31, 2010