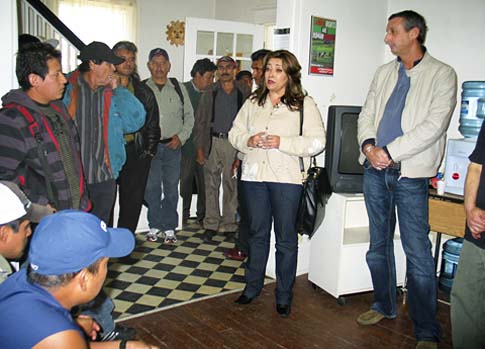 President Hanley joins Alma Valencia, the immigration minister from the Mexican state of Michoacán as she meets with workers at the AWA support centre in Leamington

May 18, 2009 — About 2,500 agriculture workers from the central Mexican state of Michoacán come to Canada each season under the Seasonal Agricultural Workers Program (SAWP).

Recently, Michocan's immigration minister travelled to Canada to find out from her compatriots first-hand about the challenges they face, and the support they are receiving through the efforts of UFCW Canada and the Agriculture Workers Alliance (AWA).

"Our relationship with UFCW Canada is very important in protecting the human rights of Michoacános working here in Canada," says Minister of Immigration Alma Valencia, who

This div will be replaced

was in Canada for the first time to visit AWA centres in Bradford and Leamington, Ontario, and Saint-Rémi, Quebec. "UFCW
Canada helps us stay in touch with our citizens, and is a strong bi-national partner and advocate for them," Valencia says.

"We see it as a very significant partnership."

Minister Valencia's visit comes three months after National President Wayne Hanley and Michoacán Governor Leonel Godoy Rangel signed a landmark co-operation agreement to ensure that the human and labour rights of agricultural workers from Michoacán, Mexico are recognized and enforced while they toil in Canadian fields and greenhouses.

President Hanley joined Secretary Valencia for her visit to the Leamington centre, which originally opened in 2002. It was the first of what has now become a network of nine AWA support centres across Canada.

"We are fortunate that Secretary Valencia has come to Canada to see first-hand what the partnership agreement has done," says Hanley.

"It has told the workers from Michoacán that UFCW Canada and the AWA are here to assist them as an advocate to ensure they have dignity and respect while they are here in Canada."