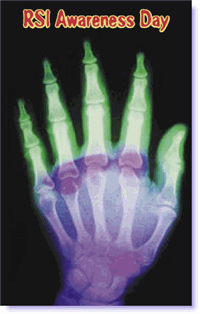 February 29, marks International Repetitive Strain Injury (RSI) Awareness Day, the annual event keeping the issue of the often-crippling injuries a top priority. RSIs are caused by workers being forced to perform repetitive actions – speed and intensity of work are often factors, but injury through constant repetition, such as the kinds of movements typically made by UFCW Canada members in packinghouses and supermarkets.
RSI Awareness Day provides an opportunity, through raising awareness, to renew our commitment to promoting prevention, rehabilitation, compensation, and education.
• Prevention: Basic ergonomic principles to redesign tools and workstations, and to re-evaluate the basic organization of work in order to eliminate RSI altogether.
• Rehabilitation: Workers must have the right and opportunity to heal and recover, to be able to go back to their jobs – ensuring, of course, that safeguards have been put in place to prevent further damage to their health.
• Compensation: Too many members try to "work through" the pain, or to "tough it out". That's simply the way a lot of people were brought up. This often makes RSIs worse and more damaging in the longer term. In cases like this, a return to work is not always an option, and workers must be compensated by the employer for the damage done.
• Education: Finally, Employers need to get the message that they must equate good ergonomic practices with economic well-being. Protecting workers is in everyone's best interest.
For more background information on RSI go to http://www.ccohs.ca/oshanswers/diseases/rmirsi.html