Josiah Henson
Josiah Henson was born a slave on June 15, 1789 in Charles County, Maryland. He was sold three times before he reached the age of eighteen. By 1830, Henson had saved $350 to purchase his freedom. After giving his master the money he was told that the price had increased to $1,000.
Cheated of his money, Henson decided to escape with his wife and four children. After reaching Canada, Henson formed a community where he taught other ex-slaves how to be successful farmers. American abolitionist Harriet Beecher Stowe read his autobiography, The Life of Josiah Henson (1849), which inspired her powerful and controversial novel, Uncle Tom's Cabin.
Mary Ann
Shadd

(1823-1893)

Mary Ann Shadd was born a free black on October 9, 1823, in Wilmington, Delaware. When the 1850 Fugitive Slave Act threatened to return free northern blacks and escaped slaves to bondage,
Shadd moved to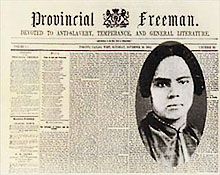 Windsor, Ontario. Here, in 1851, she established a school to accommodate the influx of black refugees from the United States.

In 1853 Shadd established the Provincial Freeman, a weekly paper designed to cover the lives of Canadian blacks and promote the cause of black refugees to Canada. The first black woman in North America to edit a weekly paper, Shadd complemented her active anti-slavery efforts and editorials with articles on women and their contributions.

At a time when it was still uncommon for women to speak in public, Shadd lectured frequently in the United States against slavery and for black emigration to Canada in an effort to keep the paper viable. Despite her efforts, the Provincial Freeman fell victim to the economic depression of the day and ceased publication in 1858.

After her husband's death in 1860, Mary and her two children left Canada. Mary became a recruiter in the Union army during the American Civil War, and later a school principal. Finally, at age 60, she attained a law degree to further assist in her struggle for the rights of blacks and women.
William Edward Hall (1827-1904)
Victoria Cross recipient William Hall was born in 1827 in Horton, Nova Scotia, the youngest of seven children. His parents, Jacob and Lucy Hall, were former enslaved Americans who had come to Nova Scotia as a result of the War of 1812. Hall grew up on the family farm beside the Avon River, and it is believed that he received some training in navigation, a subject that was being taught to young black males in Halifax at the time.

William Hall launched his seafaring career at the age of seventeen, first joining the crew of an American trading vessel in 1844 as a merchant seaman. In 1852, he enlisted in the Royal Navy in Liverpool as an Able Seaman. Before long, Hall was decorated with British and Turkish medals for his service in the Crimean War.

In 1857, while serving on the HMS Shannon, Hall volunteered with a relief force sent to Lucknow, India, where a British garrison was besieged. Two survived the attack, Seaman Hall and Lieutenant Thomas Young, but only Hall was left standing, and he continued to fight until the relief of the garrison was assured. For this outstanding display of bravery, he was awarded the Victoria Cross.

William Hall was presented with his Victoria Cross on October 28, 1859, on board the HMS Donegal while the ship sat in Queenstown Harbour, Ireland. With this award, he became the first black person, the first Nova Scotian and the first Canadian sailor to receive this outstanding honour.
Harriet
Tubman
Harriet Tubman, a runaway slave from Maryland, became known as the "Moses" of her people and the "conductor" who led hundreds of slaves to freedom along the Underground Railroad. In 1850, when the far-reaching United States Fugitive Law was passed, she guided fugitive slaves further north into Canada. When angry slave owners posted rewards for her capture, she continued her work despite great personal risk.

St. Catharines, Ontario (a town close to the border with the United States) was on the route and offered employment opportunities, making it a common destination for the former fugitives, including Harriet Tubman, who lived there from 1851 to 1857. Many of the people she rescued were relatives of those already in St. Catharines including her own parents, brothers and sisters and their families.

Later, Harriet Tubman became a leader in the Abolitionist movement. During the Civil war she worked as a nurse and served as a spy for the Union forces in South Carolina.
Asa

Philip Randolph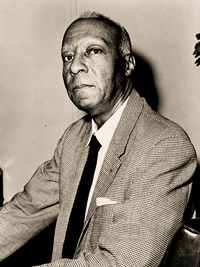 Asa

Philip
Asa

Philip Randolph (April 15, 1889 – May 16, 1979) was a prominent twentieth-century African-American civil rights leader and the founder of the Brotherhood of Sleeping Car Porters, a landmark for labor and particularly for African-American labor organizing.

Randolph was an active community member amongst his many accomplishments he helped organize the Shakespearean Society in Harlem and played the roles of Hamlet, Othello, and Romeo, among others.

At the age of 21, Randolph joined the Socialist party of Eugene V. Debs. In response to increasing segregation and discrimination against blacks, Randolph shunned moderate reform and racial integration, as advocated by W. E. B. Du Bois, and emphasized instead socialism and trade unionism.

In 1917 Randolph founded and co-edited the Messenger, a radical monthly magazine, which campaigned against lynching, opposed U.S. participation in World War I, urged African Americans to resist being drafted to fight for a segregated society, and recommended that they join radical unions.

Randolph had some experience in labor organization, having organized a union of elevator operators in New York City in 1917. In 1925 Randolph organized the Brotherhood of Sleeping Car Porters. This was the first serious effort to form a labor institution for the employees of the Pullman Company, which was a major employer of African-Americans. With amendments to the Railway Labor Act in 1934, porters were granted rights under federal law, and membership in the Brotherhood jumped to more than 7,000. After years of bitter struggle, the Pullman Company finally began to negotiate with the Brotherhood in 1935, and agreed to a contract with them in 1937, winning $2,000,000 in pay increases for employees, a shorter workweek, and overtime pay. [1] Randolph maintained the Brotherhood's affiliation with the American Federation of Labor through the 1955 AFL-CIO merger.

Randolph emerged as one of the most visible spokesmen for African-American civil rights. In 1941, he, Bayard Rustin, and A. J. Muste proposed a march on Washington to protest racial discrimination in war industries and to propose the desegregation of the American Armed forces. The march was cancelled after President of the United States Franklin D. Roosevelt issued Executive Order 8802, or the Fair Employment Act.

Some militants felt betrayed by the cancellation because Roosevelt's pronouncement only pertained to banning discrimination within industries and not the armed forces, however the Fair Employment Act is generally perceived as a success for African American rights. In 1942, an estimated 18,000 blacks gathered at Madison Square Garden to hear Randolph kick off a campaign against discrimination in the military, in war industries, in government agencies, and in labor union. An example of the success this act induced is in the Philadelphia Transit Strike of 1944 where the government backed African American workers against White labour. In 1947, Randolph,along with colleague Grant Reynolds, formed the Committee Against Jim Crow in Military Service, later renamed the League for Non-Violent Civil Disobedience. President Harry S. Truman abolished racial segregation in the armed forces through Executive Order 9981 on July 26, 1948.

Randolph was also notable in his support for restrictions on immigration. In 1950, along with Roy Wilkins, Executive Secretary of the NAACP, and Arnold Aronson, a leader of the National Jewish Community Relations Advisory Council, Randolph founded the Leadership Conference on Civil Rights (LCCR). LCCR has since become the nation's premier civil rights coalition, and has coordinated the national legislative campaign on behalf of every major civil rights law since 1957.

Randolph was also responsible for the organization of the March on Washington for Jobs and Freedom on August 28, 1963 with the help of Rustin and Martin Luther King, Jr. The Civil Rights Act of 1964 is often attributed in part to the success of the March on Washington, where Black and White Americans stood united and witnessed King's 'I have a dream speech'.

As the U.S. civil rights movement gained momentum in the early 1960s and came to the forefront of the nation's consciousness, his rich baritone voice was often heard on television news programs addressing the nation on behalf of African-Americans engaged in the struggle for voting rights and an end to discrimination in public accommodations. He was also an active participant in many other organizations and causes, including the Workmen's Circle and others.
Viola Davis Desmond
Viola Davis Desmond (1914–1965) was born in Halifax, Nova Scotia. She was a Black Canadian who ran her own beauty parlor and beauty college in Halifax. On November 8, 1946, while waiting for her car to be repaired, she decided to go see a movie in the Roseland Theatre in New Glasgow. She refused to sit in the balcony, which was designated exclusively for Blacks. Instead, she sat on the ground floor, which was for Whites only. She was forcibly removed and arrested.

Viola was found guilty of not paying the one-cent difference in tax on the balcony ticket. She was sentenced to 30 days in jail and paid a $26 fine. The trial mainly focused on the issue of tax evasion and not on the discriminatory practices of the theatre. Dissatisfied with the verdict, the Nova Scotia Association for the Advancement of Coloured People, with Viola's help, took the case to the Supreme Court of Nova Scotia. The conviction was upheld.
More recently, on April 15, 2010, the province of Nova Scotia granted an official apology and a free pardon to Viola. Premier Darrell Dexter also apologized to Viola's family and all black Nova Scotians for the racism she was subjected to in an incident he called unjust.
Leonard Braithwaite
Leonard Braithwaite was raised in the Kensington Market area of Toronto during the Depression and served in the RCAF in the Second World War. He attended the University of Toronto, where he earned a Bachelor of Commerce degree. He earned a Master of Business Administration from the Harvard Business School, graduating in 1952, and graduated from Osgoode Hall Law School in 1958, followed by a career in law. He was the first Black lawyer elected as a member of the Governing Council of the Law Society of Upper Canada.

Braithwaite was the first Black Canadian in a provincial legislature when he was elected in Ontario in 1963. He served as a Liberal member of the Ontario legislature from 1963 to 1975. In his first speech to the legislature he spoke out against racial segregation in Ontario schools. Soon after, the Ontario government repealed the law that allowed school segregation.

In 1998, Braithwaite was invested as a Member of the Order of Canada. He was appointed to the Order of Ontario in 2004.
Bromley Armstrong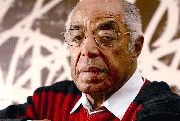 Bromley Armstrong
Bromley Armstrong was born in Jamaica in 1926 and immigrated to Canada in 1947.

In the late 1940s his empathy for the plight of others had him research the identification of Jamaican domestic workers brought to Canada in the early 1900s by wealthy Canadians. Many of these workers knew little of their backgrounds, and had no means of contact with their relatives in Jamaica.

Without a birth certificate or any other proof of age, they were unable to apply for Canadian pensions. Were it not for the thoughtful and persistent efforts of young Bromley Armstrong, they would have been unable to support themselves in their senior years.

Discrimination in housing was alive and well in Toronto in the 1950s. Bromley Armstrong, along with a young University of Toronto student of Chinese origin, would respond to advertised vacancies. When they were told the rooms had already been taken, a white couple, the other half of the 'test' team, would arrive and be offered the same accommodation. Bromley and the other members of his team built similar cases from their visits to restaurants and "private" clubs. Their efforts helped to bring many establishments to the attention of the legal system.

Mr. Armstrong founded numerous organizations in the 1950s, 60s and 70s, among them the Jamaican Canadian Association, the Urban Alliance on Race Relations, the Toronto Black Business and Professional Association and its Harry Jerome Awards, the Canadian Ethnocultural Council, and the National Council of Jamaican and Supportive Organizations.

As a factory worker and active trade unionist from the late '40s, Bromley Armstrong's leadership skills also benefited sports, as founder of the first Caribbean Soccer Club in Toronto, and promoted economic independence, through the Toronto United Negro Credit Union which he served as Vice-President from 1950 to 1954. Mr. Armstrong was also publisher of a newspaper, the Caribbean Canadian Weekly – The Islander, for four years.
Bromley Armstrong - 1998

Since the early 1970s, Bromley Armstrong served on the Advisory Council on Multiculturalism in Ontario, the Ontario Human Rights Commission, the Mayor of Toronto's Committee on Race Relations, the Ontario Labour Relations Board, and the Board of Governors of the Canadian Centre for Police-Race Relations.

Bromley Armstrong has collaborated with and served as guest speaker at events organized by Canadian Council of Christians and Jews, National Association of Canadians of Origins in India, and at rallies in support of issues of concern to Chinese, South-Asian, Japanese, and Jewish communities.

While there are ongoing challenges to be faced, his efforts and achievements serve as examples of the progress which can be made through personal integrity and rational confrontation of injustices. The awards which he has already received include the Order of Distinction (Officer) Jamaica, the Order of Ontario, and Member of the Order of Canada. These and some nineteen other awards attest to the stature and regard which he has earned amongst a wide range of constituents. In 1988, Toronto Life Magazine profiled Bromley Armstrong as one of the fifty most outstanding contributors.

In 1998 he was recognized by the Harmony Award as a man who has educated individuals, organizations and communities through his unselfish and unwavering commitment to human rights, race relations and labour relations in Canada, for almost 50 years.
Rosemary Brown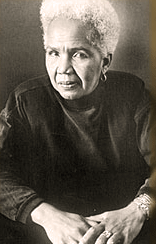 Rosemary Brown
Rosemary Brown (née Wedderburn) was born in Jamaica in 1930. She moved to Canada in 1950 to study at Montreal's McGill University where she would first encounter Canadian racism. Throughout her trail blazing career as an activist, Brown would fight for her rights and those of other women and minorities.
Brown moved to Vancouver in 1955 to marry Bill Brown. There, she became the first Black woman elected to public office in Canada when in 1972, she was elected as a Member of the Legislative Assembly (MLA) in the B.C. Legislature. She was an NDP MLA for Vancouver-Burrard from 1972 to 1986 and the first woman of African descent elected in Canada. In 1975, she came second to Ed Broadbent in the federal NDP leadership race.
After 14 years of service as an MLA, Ms. Brown took a job in Ottawa in 1989 with MATCH International, a development agency run by and for women, and served as
Chief Commissioner of the Ontario Human Rights Commission.
Ms. Brown was also a professor of women's studies at Simon Fraser University.
She passed away at the age of 72 in 2003. In February 2009 she was honoured in a commemorative stamp published to mark Black History Month in Canada.
Stanley G. Grizzle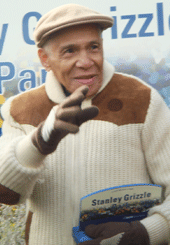 Stanley G. Grizzle
Stanley G. Grizzle, C.M., O.Ont. is a retired Canadian citizenship judge and labour union activist. Born in 1918 in Toronto to Jamaican immigrants, he was the oldest of seven children.

While working as a porter, Grizzle became active in the Brotherhood of Sleeping Car Porters (BSCP), a trade union whose leader was the charismatic African American A. Philip Randolph.

Upon his return to Canada after serving in Europe during World War II, Grizzle became more active in the union. He was elected president of his union local, and pushed the CPR to open the management ranks to blacks. He also plunged into other causes and was a leader in Canada's nascent civil rights era of the 1950s, working with the Joint Labour Committee to Combat Racial Intolerance.

In 1959, Grizzle and Jack White were the first Black Canadian candidates to run for election to the Legislative Assembly of Ontario for the Co-operative Commonwealth Federation (the predecessor to the New Democratic Party). In 1960, Grizzle went to work for the Ontario Labour Relations Board, and in 1978 he was appointed a Citizenship Judge by Prime Minister Pierre Trudeau.

In recognition of his work with the BSCP and his civil rights work, Grizzle received the Order of Ontario in 1990 from Lieutenant-Governor Lincoln Alexander. As further recognition, he received the Order of Canada in 1995 from Governor General Roméo LeBlanc.

On Thursday November 1st 2007, a parkette on Main Street in Toronto's east end was dedicated the "Stanley G. Grizzle Parkette" in a ceremony hosted by Toronto Mayor David Miller.